CEG Rentals provides dump truck hire. Based at Hexham near Newcastle. Servicing the Hunter, the Central Coast and beyond.
Looking for an articulated dump truck for hire? CEG Rentals have a range of plant hire available for dry hire projects across Newcastle and NSW North Coast. We've been operating as a reliable heavy machinery rental business since 1989 and are dedicated to providing modern and well-maintained machinery to help you see your project through to completion. We provide the most competitive dump truck hire rates across the Central Coast, so, get in touch with us today to discuss the specific needs of your site and we'll create a custom quote just for you.
Articulated dump trucks for hire in Newcastle.
We're located in Hexham but offer dump truck rental across the Hunter Valley.
When you need a dump hauler for your site in Newcastle, CEG Rentals should be your first call. We're currently located in Hexham, New South Wales but are able to bring dump truck rental to Newcastle, the Hunter Valley, New England, Lake Macquarie, NSW North Coast and the Central Coast. We endeavour to deliver articulated dump trucks to your site safely on time, so talk to us today.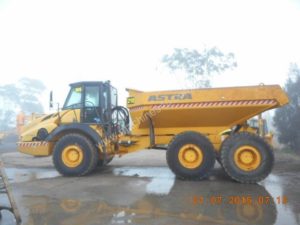 Get in touch with the team at CEG Rentals today for modern articulated dump truck hire at competitive rates. We'll work with you to ensure you have the right heavy machinery for your project across Newcastle and Lake Macquarie. Talk to us today about our dump truck hire by giving us a call or filling out our online form.